Maryland Crab Cakes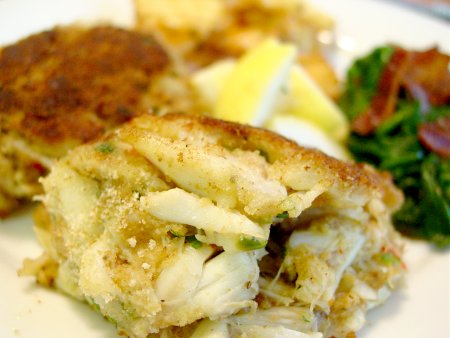 On a whim, we decided to have some crab cakes tonight. If you're going to have crab cakes in Maryland, you simply must use the only true crab meat – Maryland crab meat. We went to Gibby's seafood, where they recommended jumbo lump. We're not sure if the jumbo lump was necessary, but it certainly produced one of the finest meals that we've enjoyed in a long time.
The last time we had crab cakes was for our anniversary two years ago. If you can believe it, that was the last time we had a dinner out without the kids. We enjoyed a spectacular meal at the Oregon Grille in Hunt Valley that night. Robin got the crab cakes, which we would strongly recommend should you ever find yourself there.
Since it's been nearly two years, we won't even attempt a review here. We will say that tonight's meal compared very favorably with the memory of those crab cakes. By no means are we suggesting that our culinary prowess is anything like that of the fine folks at the Oregon Grille. What's common between the two meals is very high quality crab meat. We are very proud that our preparation was worthy of very good crab meat and fond memories.