Artichoke Heart Pizza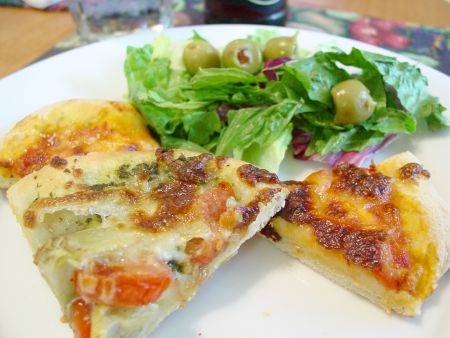 The whole family helped on this one. That's one of the reasons that we like making pizza so much. That it tastes so wonderful doesn't hurt either! In addition to simple cheese pizzas for the kids, we make an artichoke pizza for the adults.
Robin & Chris still haven't recovered from their Lenten obligation (giving up ice cream). We were really hoping to make it to Moxley's for a little after dinner treat. It wasn't looking good for a bit – our daughter and our son have switched eating habits on us – she's eating, he's not. The pizza didn't interest him much (even though he enjoyed kneading the dough). Ah well, we re-heated some pasta which he ate. That was enough (tonight) to warrant dessert. And it was good!