Pancake Dinner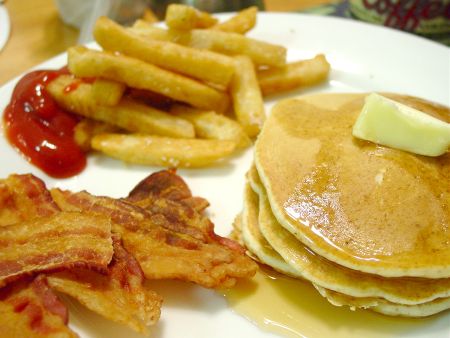 "Can I wash my hands? Because I really like to make pancakes." Our daughter likes to make them and likes to eat them. Tonight, both kids took turns measuring, leveling and pouring the ingredients for the pancakes. And both kids ate more than their share of their work.
First thing this morning, we did the same thing that we do every Sunday morning – go to the Baltimore Farmer's Market. After depositing the fresh fruit and veggies at home, we head right back out to the local "corn maze".
The corn maze was a corn field in which a maze has been carved. This particular maze was about 1½ miles long. We were all quite proud that we made it all the way through, especially on such a hot November day.
The rest of the afternoon consisted of a much needed nap (our son), football and Scrabble (Chris and our daughter) and grocery shopping (Robin). When dinnertime arrives, we choose breakfast for dinner – mostly because Chris and the kids can make it, giving Robin something of a break.
Dinner was wonderful. The kids ate. The adults ate. The pancakes were heartier & healthier with the addition of ½ cup of wheat germ. Bacon (always a crowd pleaser with our crowd) and pre-packaged french fries round out this very welcome end to an enjoyable, albeit long, day.