Nesting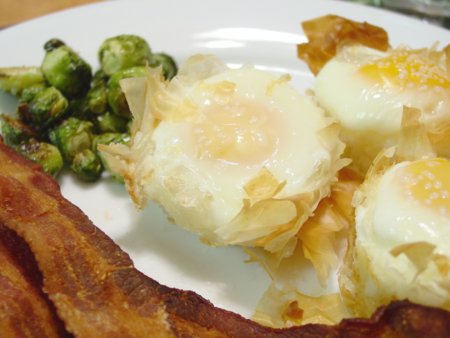 Week 24 of our third pregnancy – nesting begins. The two kids that we already have are terrific. They're bright, happy and have many wonderful talents – making a mess being very near the top of the list of those talents. Our basement has seen the clutter build to a point that we have to spend the entire weekend cleaning it. We conclude a fun-filled weekend with an interesting little egg dish.
To describe Robin as tenacious is to describe the Sun as warm. From a distance you might recognize certain characteristics, but get close and, well…
The various fall illnesses that have afflicted our family have, for the most part, by-passed Robin. That stopped being true Thursday. By Saturday, she could barely talk. Sunday brought no relief. Very pregnant and quite ill – did that stop her from a full day of chores? Er, no.
Chris was quite ready for take-out after his hard day, but Robin insisted on making dinner. The allure of the farm fresh eggs that we picked up from the Farmer's Market this morning was just too strong. At the end of the day, Robin was still sick, but the rest of us had a good warm meal in our bellies.