The Day After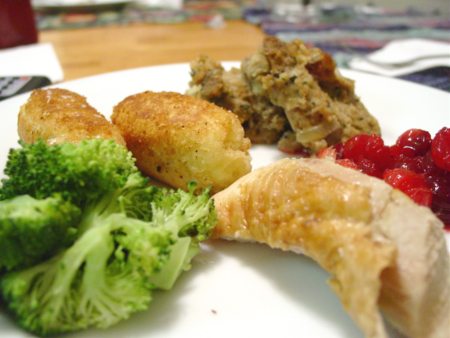 'Twas the day after Thanksgiving and, in our house, we're quite grateful for leftovers. Robin is
still
bitterly disappointed at the turkey results, but that doesn't prevent her from putting together Thanksgiving leftovers at their finest (and simplest).
Grandma is still in town for her Thanksgiving visit. She ate a little too much for lunch so she can't enjoy much dinner. Luckily, the kids and Chris have no such problem.
There's really nothing much extraordinary with this meal – mostly we're simply re-heating. Even so, this is some people's (Chris's) idea of the perfect meal – Thanksgiving goodies and cold turkey.
But what really makes this meal special is having Grandma here for it. In addition to her company, which we all very much enjoy, we also get to have her mashed potatoes leftover. Of course we don't re-heat the potatoes, we make them into potato croquettes.
Yep, Thanksgiving leftovers, potato croquettes and Grandma. We've still got a lot for which to be thankful – even on the day after Thanksgiving.