Huevos Rancheros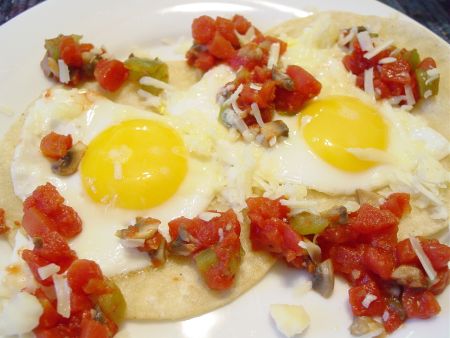 Chris had huevos rancheros for lunch. For dinner, we all have… huevos rancheros! This is a very simple meal to finish off the week.
We use some (almost) farm fresh eggs that we nabbed at the farmer's market Sunday. A simple, homemade tomato salsa serves as the "rancheros". Some fried corn tortillas complete the dish and also function as something that the kids will definitely eat (they also ate cheese and eggs tonight).
Chris was fully aware that eggs were on the menu for dinner. He went out to lunch with Mr. Jim at the Blue Moon in Fells Point. Mr. Jim is a good friend of Chris's from high school. He and Chris both found their calendars free today, so they did some catching up over some good eats. The Mexican scramble there is simply too good to pass up.
As a postscript to this meal, we note simply that we're still waiting on the promised recipes of which Mr. Jim spoke at lunch.