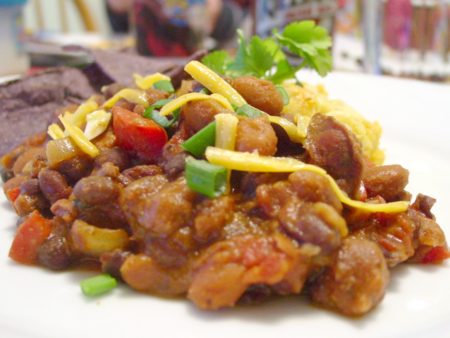 Another January day, another snow day. Robin and the kids have been in the house now for 2 days straight. Fortunately, we have a well stocked pantry and leftovers frozen in the icebox. The result is a meal that warms – straight from our bellies throughout out entire body. Even on a day like this.
Our neighborhood was quite beautiful at dinnertime. Dinner was not too shabby either. The most remarkable aspect of tonight's dinner was just how much better the chorizo makes our old standby, bean chili.
A late addition to the chili was grapefruit juice. Just before serving, Robin decided that some citrus was needed. Looking in the refrigerator, we found that the only citrus that we had was grapefruit. Upon seeing Robin with grapefruit, our daughter exclaimed, "Oh, I want that." So she had half a grapefruit along with her dinner.
Whenever we have chili, the kids have plain beans. For some reason the two differently colored beans appeal to them.
Our son always asks, "What kinds of beans are these (pointing to the pinto beans)?"
Our daughter answers, "Red!"
"Oh, what kind are these?"
"Black!"
"Oh."
Then, they both proceed to eat all the beans on their plates. They are funny that way, which also explains tonight's other activity. They enjoyed daring each other to try daddy's hot salsa (with lots of milk at the ready). We tried to discourage them as much as possible, but they do not listen to us during the day, so why should dinner be any different?
Ultimately, their contest turned out to be quite harmless. They did not put very much salsa on their chips. Mostly, it made for entertainment to go along with our very filling dinner.