Pasta with Clams—a Twist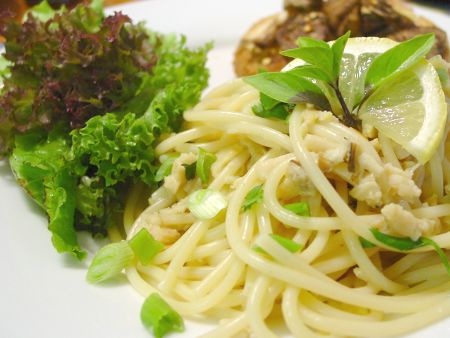 Having dinner at home seems quite the accomplishment some days. Today left us weary by lunchtime. Fortune favored us today with a long afternoon nap by the baby, giving us time to recoup and ready ourselves for dinner. The family meal is similar to our usual pasta with clams, but with an Asian twist.
If not for the rain, today might have been a very nice day. It has not rained for a few days. Several people had apparently forgotten how to drive in the rain, much to their misfortune and, indirectly, ours. We sat in two traffic jams of 30 minutes while traveling to the Maryland Science Center. The baby dislikes driving in the car and detests when the car does not move. She screamed for much of the hour long journey to downtown Baltimore.
The older kids enjoyed themselves at the Science Center, but we were not able to stay long—mostly because we arrived so late. We ate lunch at a taco place near Fells Point. The kids did a fine job eating there, as they do at any Mexican/Southwestern restaurant.
The afternoon turned from a hectic, but enjoyable morning to a almost frantic search for baby toys. We were looking for one specific toy—a caterpillar that our daughter "bought" our son just after he was born. We have a picture of our son as a baby with it at the baby's age. We would very much like to get a photo of her with the same toy at nearly the same age. We did not find it today, but we did manage to do quite a bit of tidying up in the process. Fortunately, the baby slept through all of this, providing us the chance to make dinner.