A Daughter's Recipe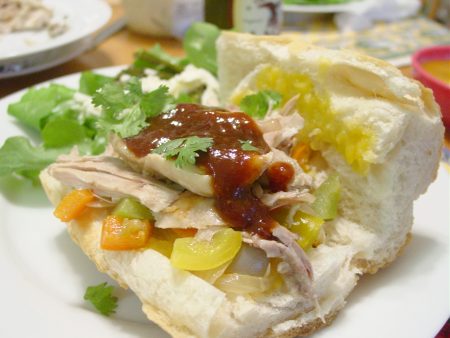 Labor day weekend started with a rotisserie chicken at Grammy's and Boppy's house. It ends tonight with a meal that includes our daughter's first recipe—a simple dipping oil for her bread.
The Bopster has had the same grill for as long as anyone can remember. That is no mean feat considering that he grills four days a week. Last weekend, he finally broke down and bought a new one. His new grill is pretty nifty—it even has a rotisserie, which is what inspired Saturday's cookout. The whole Maryland-based family gathered for the christening of the rotisserie. Grammy and Robin prepared two chickens: a garlic lemon chicken and a chicken with barbecue sauce. That dinner is the basis for tonight's dinner.
Our daughter's first recipe is borrowed from Bertuccis, which serves its bread with olive oil and fresh herbs. When first presented with this, both kids turned their noses with a collective, "What's that?" Somehow, we were able to convince them to try it. Our son still prefers butter on his bread, but our daughter liked it so much that she started preparing this at home. She pulls the olive oil out of the pantry, grabs the necessary herbs (we use dried for simplicity) and mixes them all together on a small plate. It is a sight to see—especially when she starts pouring the red pepper flakes to ensure that it is spicy enough.