Snowy Day Cookies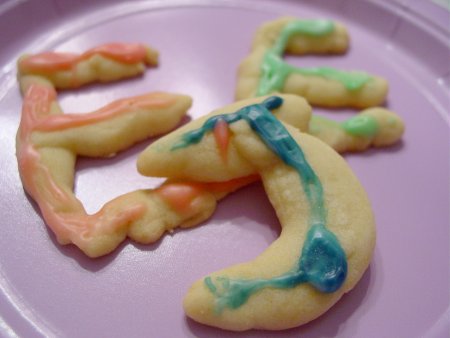 Robin and the kids were stuck inside. Again. To keep everyone constructively occupied, they made alphabet cookies. We enjoyed a nice dinner at Edo Sushi, then everyone ate lots of cookies for dessert.
School was cancelled yesterday on the weatherman's authority. Heavy snow was supposed to start in the morning and last through the night. Shockingly, there was no snow until evening.
School was cancelled today as well—mostly due to very icy conditions this morning. And so, the kids and Robin spent the bulk of the afternoon baking cookies.
In the midst of the baking, Mr. Barry came over to borrow the cookbook for the brownie cookies. It would seem that we are just not doing a good enough job getting recipes out in a timely fashion.
We went out to Edo Sushi this evening. Chris has to be at work very late tonight (and into tomorrow morning), so the family took him out to ease the shock with dinner and they even provided the cookies! Afterwards, we got coffee, lots of coffee.