Leftover Crab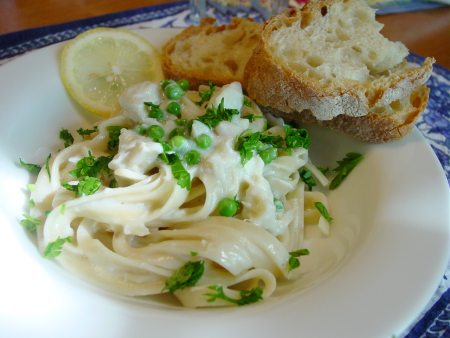 The long weekend is over. Our guests have left. We are left with but fond memories. Fond memories and extra crab meat. Ooh, and a gift cookbook with crab recipes in it. What to do, what to do?
We opt to prepare a simple pasta dish with a crab sauce. Pasta is always welcome in our house—especially by our son. It also allows us to use up some more of the Farmers' Market fresh bread. Always adverse to waste, we are quite happy using two items on hand—especially when the result is so tasty.
In addition to finishing up some food from the weekend, Chris and our daughter finish their game of Monopoly. Our daughter won. Again. The only other after-effect of the long weekend is that Robin is very, very tired—mostly because the baby is not sleeping well. Hopefully, she will do better tonight with a belly full of pasta.