Cheeburger in Paradise (Home)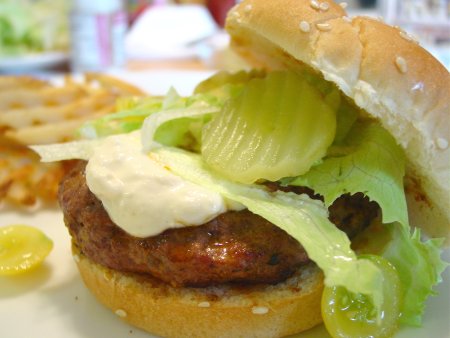 Dinner tonight was an attempt to simulate a trip to Cheeburger. Chris inadvertently told the kids we might go there. When we realized that was not going to happen, we did our best to recreate the experience at home.
As is typical of our recent Saturdays, today was busy. Our daughter had soccer in the morning. Afterwards, we ran some errands for Grammy, who was hosting a dinner party in the evening.
By the time we returned home, it was quite late and the baby was a complete mess. We fed her a quick lunch and put her down for a nap. She was even more of a mess when she woke up. After dinner, she threw a tantrum in the blind store. She was a one-kid stress inducer today.
Everyone else had a pleasant day. Robin and our daughter went to Graul's for dinner supplies (after it became apparent that dinner out would not be a good idea). Chris and our son played Sorry and watched Scooby-Doo.
The lesson that we take from today is to never mess with a 1 year old's schedule. Never.