Chicken Under a Brick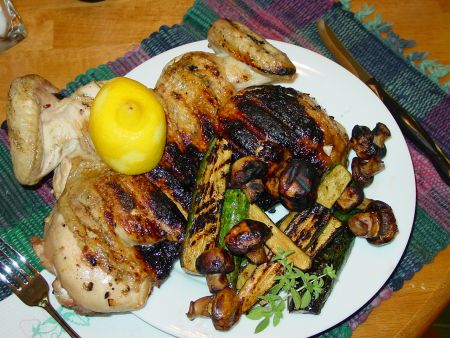 This is just a really interesting way to prepare chicken. We use a medium-sized brick with a "handle" on it. Wrap a little heavy duty aluminum foil around the brick, and the flavor really gets packed into the chicken.
Ingredients
to taste

salt & pepper

1

Whole

3.71 pounds

chicken

(Bell Evans)

5

leaves

julienned

sage

1

zested

lemon

3

cloves

minced

garlic
The chicken is prepared by "butterfly-ing" it. This is done by cutting along both sides of the backbone, which removes the backbone from the rest of the chicken. Save the backbone for stock along with the neck and the rinsed contents of the bag of innards (minus the liver, which we discarded). After the chicken has been buterflied, we remove some of the excess fat (saving it for the stock as well).
On a small dish, we mixed the sage, lemon, garlic, salt and pepper. We then put that mixture under the skin of the breast and the thigh.
We turned on our gas grill, with half of the grill on medium, the other off to prevent it from getting too hot and drying out the chicken. After the grill had a chance to warm up (and burn off some built-up grease), we put the chicken on the heated side with the skin side up. On top of that, we put our brick (wrapped in heavy duty aluminum foil). The grill cover was closed and the chicken cooked for 15 minutes.
Using a potholder, lift grill cover and remove brick. Flip chicken over with tongs, replace brick, and put the grill cover down again. After another 15 minutes check chicken. We want the juices to run clear and the temperature in the leg-thigh joint to be 180 degrees F. Pull chicken off to a plate and squeeze half a lemon onto skin side. Return chicken to the turned-off section of the grill for a few minutes while you get the marinated vegetables onto the grill. Remove chicken from grill and let rest for at least 5 minutes.