Mushroom Risotto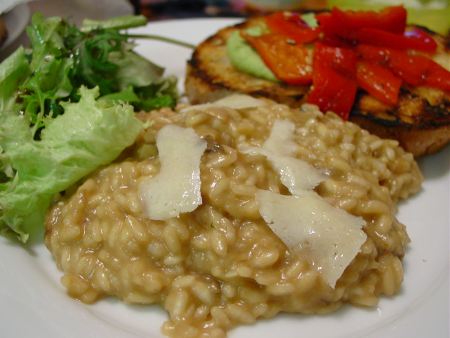 Risotto is a creamy italian rice dish. In this recipe, we use sherry and mushrooms to flavor the risotto. We use vegetable stock, instead of chicken or beef stock, to keep this a strictly vegetarian recipe.
Ingredients
We start off by preparing the mushrooms. We bring 3 and a half cups of water to a boil and pour over the dried porcini mushrooms in a medium bowl. We let soak for about 15 minutes while we prepare the button mushrooms.
We slice the white button mushrooms. We heat a tablespoon of olive oil in a pan and saute the mushrooms for about 5 minutes until browned and tender. We add the garlic and some salt and pepper and turn off the heat, reserving the pan on the stove.
We drain the porcini through a fine-mesh strainer, reserving the liquid. We rinse the porcini, making sure they are clean, and chop them on a cutting board. We add these mushrooms to the pan of cooked mushrooms on the stove.
We strain the liquid again through a few layers of paper towels in the strainer. We want the liquid to be free of any sand.
In a medium pot, we bring the vegetable stock and porcini liquid to a boil and then lower the heat to keep at a bare simmer.
In our dutch oven, we heat the remaining 2 tablespoons of oil and saute the shallots. After a minute, we add the rice and stir with a wooden spoon to coat each rice kernel with the oil. We add the dry sherry and continue to stir until all liquid is absorbed. We then begin adding the stock, 1/2 cup at a time, continuously stirring until each addition is absorbed. After about 15 minutes, we begin tasting the rice. We want it to be just al dente, not mushy. When it is almost tender, we add the mushrooms and taste for salt and pepper. When done, we take the dutch oven off the heat, add the Locatelli and a little remaining stock. We serve and enjoy!