Seafood Salad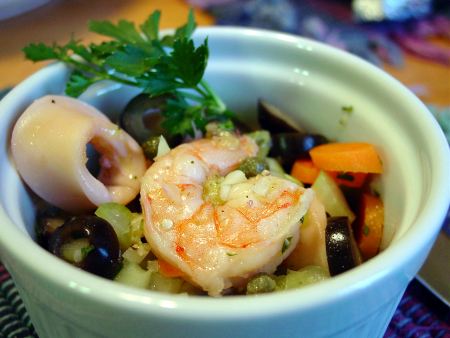 This is a holiday tradition for us. If we could find an excuse to have it more often, we would, but it definitely adds to the season. Squid serves as the primary ingredient in this dish. We've added shrimp for the squeamish.
Ingredients
We put a pot of water to boil on the stove. We salt the water lightly and put the shrimp in first. The shrimp only take about 2 minutes to be cooked through. We take them out with a strainer and put them in a colander with ice on them for about 5 minutes to stop the cooking. We keep the cooled cooked shrimp in a resealable plastic bag, on ice in the fridge, until ready to serve.
We decide to cook the squid rings and squid tentacles in the same pot, although the rings turn pink! We add the squid to the pot of boiling water and cook for about 40 minutes until it is very tender. When done, we drain into a colander and put ice on them to stop the cooking.
In a large serving bowl, we combine the cooked squid, celery, carrots, olives, salt, pepper, and capers. We mix the lemon juice and olive oil in a measuring cup. We pour most of the dressing in the bowl and toss with parsley. The remaining dressing we reserve for the shrimp when it is time to serve. We cover the squid salad and dressing with plastic wrap and store in refrigerator.