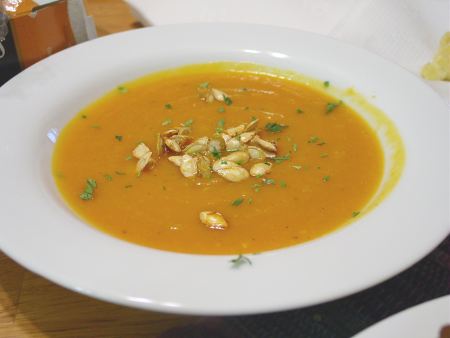 This is a nice little fall/winter soup. It has a very rich flavor. It is creamy without cream, making it a very low fat soup. As butternut squash soup recipes go, this is relatively easy (it's still involved compared to some soup recipes). The flavor of the squash really comes through with roasted garlic providing the hint of sweetness.
We begin by pre-heating the oven to 425 degrees.
We rinse and dry the butternut squash. With a sharp knife on a cutting board, we carefully cut the squash in half lengthwise. We scoop out the seeds, reserving them on a paper towel. We sprinkle the cut-side with salt, pepper, thyme, and sage and lay them flat on a parchment-lined cookie sheet (although it would have been better to use a pan with sides since we soon will see that the "squash juice" will make a mess of the oven!). We tuck the garlic cloves in the cavities of the squash and put in the oven. We roast until tender, about 40 minutes.
Meanwhile, we clean the seeds, picking out the squash bits, and laying them flat to dry on a plate.
When the butternut squash is tender, we take it out of the oven and let it cool for a few minutes on the cutting board. We reduce the oven temperature to 325 degrees to roast the squash seeds. We put a clean sheet of parchment on the cookie sheet, toss the seeds with a little olive oil, salt and pepper and spread them on the parchment. We roast them in the oven until browned and fragrant, about 5 minutes.
While the seeds are in the oven, we peel the squash halves with a knife and put the pieces in our food processor. We take the skins off the cloves of garlic, and add them to the processor with a half cup of chicken stock (water or vegetable stock could be substituted for a vegetarian soup). We puree the squash until smooth, and then gradually add the rest of the stock.
We pour the mixture into a pot, and bring it to a simmer. We add some more salt and pepper to taste and lower the heat. We take the roasted seeds out of the oven, spread them on a clean plate to cool, and we are ready for the soup!
We serve the hot soup sprinkled with parsley and the squash seeds.