Smoky Black Bean Chili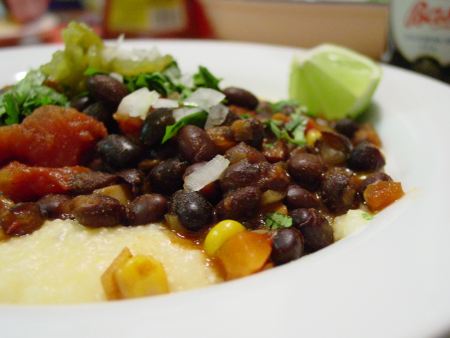 Black beans serve as the base for this nice vegetarian meal. When you're in the mood for hearty vegetarian fare, this is a good place to start. The recipe really lends itself to adding all sorts of fresh vegetables.
Ingredients
1

tablespoon

olive oil

1

cups

divided

onions

3

cup

red

bell pepper

6

ounces

white button

mushrooms

salt

1

clove

or to taste

garlic

1

cup

frozen kernels

corn

1

canned in adobo sauce

chipotle pepper

30

ounces

canned

black beans

2

teaspoons

dried

cumin

1

tablespoon

ancho

chile powder

14½

ounces

canned

tomato

(Del Monte Fresh Cut)

sharp cheddar

cheese

salsa

(Pace medium hot)

sour cream

lime wedges

canned

chopped green chiles

cilantro
We begin by reserving 2 tablespoons of the onions for topping the chili. In our dutch oven, we heat the olive oil and sweat the onions on medium-low heat for about 10 minutes. Meanwhile, we mince the garlic and clean and chop the mushrooms. When the onions are tender, we add the red pepper and continue to cook on medium heat for a few minutes. We add the mushrooms and cook until they release their juices. Next we add a little salt and the garlic and saute for 30 seconds. Then we add the corn and chipotle and stir well. We add the black beans and spices and cook for a minute. Finally, we add the tomatoes and simmer, partially covered, for about 20 minutes, stirring occasionally.
We top each serving of chili with the reserved onion, cheese, salsa, sour cream, a squeeze of lime, chopped green chiles, and some cilantro.