Irish Oatmeal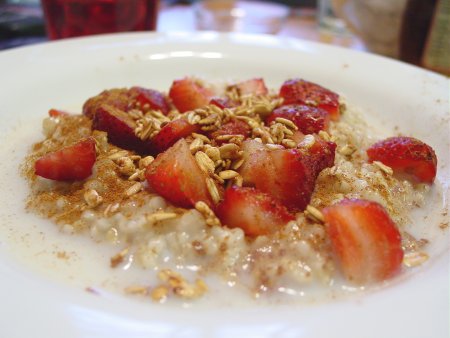 Oatmeal is a delicious, healthy, breakfast. The steel-cut irish oats produce a nutty, chewy, tender oatmeal that we love. It takes over half hour to cook if the oats are not pre-soaked, but a quick prep the night before cuts the cooking time down significantly. Today we add strawberries, but the oatmeal is wonderful with any berry, or some chopped apples, pears, or peaches. Of course, guests to our house like to add brown sugar as well, but we like it just with the fruit.
Ingredients
2

cups

water

1

cup

oats

(McCann)

strawberries

cinnamon

low fat with cranberries

granola

(Chappaqua Crunch)

skim milk
We begin the night before we want to eat the irish oatmeal to save time in the morning. We bring the water to a boil in a medium pot. We add the oats, cover, and remove from the heat. We let the pot cool off for about an hour and then refrigerate the pot.
This morning we place the pot on the stove over medium heat. We bring the oatmeal to a boil, uncover, and simmer on low for about 8 minutes until thickened. We divide the oatmeal into two bowls, sprinkle with fruit, cinnamon, granola and skim milk to taste.
Sometimes Chris is not around in the morning to eat his bowl. We refrigerate his bowl with plastic wrap and it is ready to be popped in the microwave for a minute or two for a quick, no-mess breakfast.