Kale Soup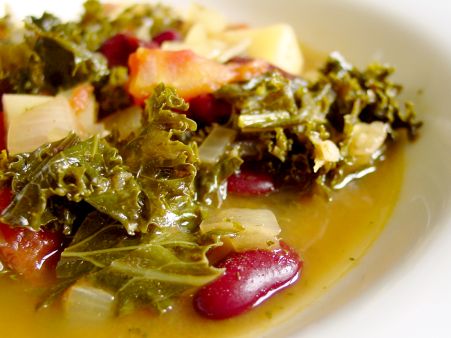 This soup has quite a lot of depth to it. Besides the kale, there are tomatoes, potatoes and other goodies. The recipe is adapted from Jeanne Lemlin's "Vegetarian Classics." The preparation is somewhat involved, which is reflected in this very full soup.
Ingredients
2

tablespoons

olive oil

2

cups

onion

1½

teaspoons

garlic

4

cups

bought roasted vegetable

stock

1

cup

water

2

cups

Red Bliss

potatoes

1

dried

bay leaf

1

cup

canned dark red kidney

beans

3

cup

canned diced

tomatoes

1

teaspoon

sweet

paprika

cayenne powder

1

teaspoon

kosher

salt

1

pound

kale

black

pepper
We begin by doing all the prep for the soup. We place the cut potatoes into a bowl and cover with the vegetable stock so the potatoes do not turn color. Then we heat the olive oil in our dutch oven and over medium low heat we add the onions. We cook for about 10 minutes, stirring occasionally. We want the onions golden and tender. Next we add the garlic and saute for a minute. We add the rest of the ingredients, except that we hold off the black pepper until the end. We bring the soup to a boil over medium heat, lower the heat to a simmer, and cook for about 30 minutes. When the potatoes are tender and the soup has thickened, we discard the bay leaf and remove one cup of soup to our blender and puree. We add the pureed soup back to the pot to create a creaminess and season with black pepper.