Thai-Style Chicken Fried Rice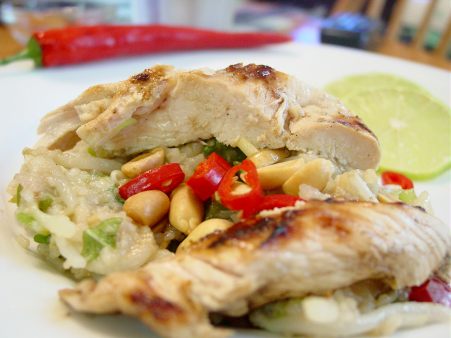 We completely make up this thai-style dinner. We have leftover basmati rice, thai basil growing in our garden we have wanted to use, and some chicken and veggies in the fridge. The result, a tasty dish that takes some prep but is a quick cook.
Ingredients
3

pound

boneless skinless cutlets

chicken

2

tablespoons

freshly squeezed

lime juice

1

tablespoon

olive

oil

4

cloves

garlic

black pepper

fish sauce

1

medium

shallot

1

large

green

bell pepper

1

medium

thin red

chile pepper

6

medium

scallions

2

tablespoons

grocery-store

fish sauce

1

tablespoon

dark

soy sauce

2

tablespoons

rice vinegar

1½

tablespoons

dark

brown sugar

1

cup

frozen, roasted and unsalted

peanuts

(Trader Joe's)

1

tablespoon

canola

oil

1

tablespoon

fresh

ginger

2½

cups

cooked, cold, basmati

rice

2

cups

fresh mung

bean sprouts

1

lime

2

tablespoons

thai basil
We start by pre-heating the oven to 350 degrees. Then we quickly marinate the chicken. In a resealable plastic bag, we combine the lime juice, olive oil, the crushed garlic cloves, freshly ground black pepper and a splash of fish sauce. We add the chicken cutlets and let marinate at room temperature for 15 minutes. We then wash our hands well and begin prepping the ingredients. We mince the rest of our garlic, our shallot and green pepper, yielding 1 tablespoon, 2 tablespoons and 3/4 cup respectively. We also slice our chile pepper and scallions and put them in separate prep bowls. We mix the fish sauce, soy sauce, rice vinegar, and brown sugar in a medium bowl for the sauce. Then we put the frozen peanuts on a foil-lined cookie sheet and bake for 3 minutes. When done, we remove to cool. We also have the bean sprouts and ginger in separate bowls.
We turn on our gas grill and when the chicken has marinated for 15-30 minutes, we pat them dry and place on a hot, oiled, grill. We wash our hands well again, and grill the chicken for a few minutes a side. We want the chicken to be just cooked through.
Meanwhile, we heat the oil in a large pot over medium heat. We add the shallots, garlic, and ginger and stir-fry for a minute. Then we add the green pepper and stir for another minute. We add the rice, breaking up the lumps, and stir for a minute. We add the sauce, scallions, and sprouts and stir for another couple of minutes. We turn off the heat, add a squeeze of lime and the thai basil and swerve sprinkled with the peanuts and chile pepper.
We slice the chicken and serve it on top of the stir-fried rice.