Gazpacho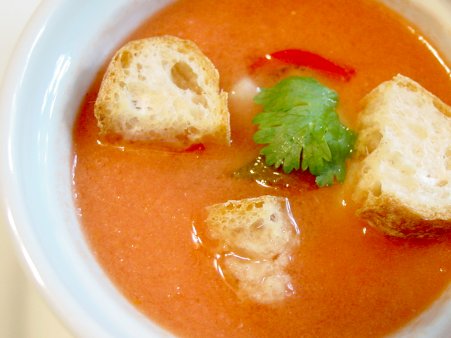 Gazpacho is a cold, uncooked, tomato-y soup that is very refreshing on a hot day. We add a little bread to thicken the pureed soup a bit and to give it a little creaminess. We use farmer's market vegetables for the best flavor.
Ingredients
1

slice

very thin white

bread

(Pepperidge Farm)

2

cloves

garlic

1½

pounds

fresh beefsteak

tomatoes

1

long

english

cucumber

1

medium

red bell

pepper

1

tablespoon

red wine

vinegar

1

tablespoon

extra-virgin olive

oil

1

cup

water

salt & pepper

1

tablespoon

lime juice

hot sauce

(Tabasco)

cilantro

homemade

croutons
We start at lunchtime by crumbling the slice of bread into our blender. Next, on our cutting board, we crush, peel, and coarsely chop our garlic. We add this to the blender. We give the tomatoes a quick rinse and dry and then coarsely chop them, removing the core. We get about 2 cups of tomatoes and we add these to the blender. Next, we peel about half of the skin off the rinsed piece of cucumber. We chop the cucumber and put about a cup into the blender. The remaining 1/2 cup or so we chop into small pieces for garnish for the soup. We put the garnish into a resealable container. The red bell pepper we also chop some for the blender and some for the garnish. We add 1/4 cup of the pepper to the blender and the rest we chop small and add to the garnish container.
We add the vinegar, oil, water, salt and pepper to the blender and puree. When the soup is nicely pureed, we taste for seasoning and add the lime juice and a few drops of Tabasco. We strain the soup through a fine-mesh strainer into a large container. We have about 3 cups of gazpacho. The soup is smooth and thin, but it will thicken slightly in the fridge. We probably could have left out the water for these juicy tomatoes. We cover and refrigerate both the soup and the garnish for a few hours.
We serve the soup chilled, tasting first for seasoning. We add the cucumber and red pepper garnish and some cilantro and croutons.
Search
G
o
o
g
l
e
for other
Gazpacho
recipes