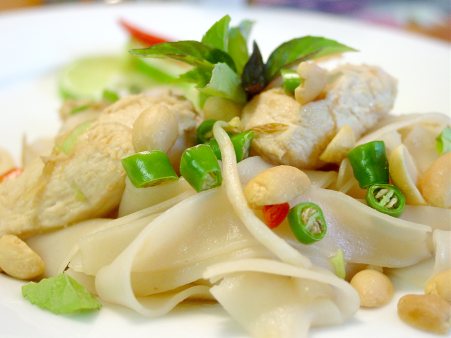 We love our pad thai recipes and chicken was on sale at the market, so we make a chicken version. We do not have many eggs, so we leave out the scrambled eggs, but add fresh thai herbs from the garden.
We begin by pre-heating the oven to 350 degrees as we prep the ingredients. We want everything ready for the stir-fry in about an hour. We mince our shallots and garlic, yielding 1/2 cup and 2 tablespoons respectively, and place them in a bowl. We rinse and pat dry our chiles and slice them. We set these aside in another bowl, with our lime wedges, and put the bowl on the table. We put the peanuts on a foil-lined cookie sheet and bake for a couple of minutes. We want the peanuts fragrant and lightly colored. We remove the cookie sheet to cool and place the peanuts in another bowl on the table. Then, we mix the fish sauce, soy sauce, rice vinegar and brown sugar in a medium bowl for the sauce. We also have bowls for our bean sprouts, scallions, and fresh herbs from the garden.
We put a medium sized pot full of water on the stove and bring it to a boil for the rice noodles. Meanwhile, we rinse and pat dry the 2 breasts of chicken and de-bone them with a small knife. We put the bones aside for stock (we make this tonight too!) and chop the chicken breasts into pieces.
When the water is boiling, we add the rice noodles and cook for 4 minutes, according to the package directions. We drain them in a colander and rinse with cold water.
In a large pot, we heat a tablespoon of oil over medium-high heat. When it is hot, we add the chicken and stir-fry. When both sides of the chicken are getting browned, we add the shallots and garlic. We stir-fry for a couple of more minutes until the chicken is just cooked through. We then add the rice noodles and the sauce and reduce the heat to medium. We toss these around to heat. Next we add the bean sprouts and scallions to the rice noodle pot. We cook for a minute, tossing often.
We serve the chicken-noodle dish with a squeeze of lime and sprinkled with the peanuts, chiles, and hand-chopped thai basil and mint.