Onion Soup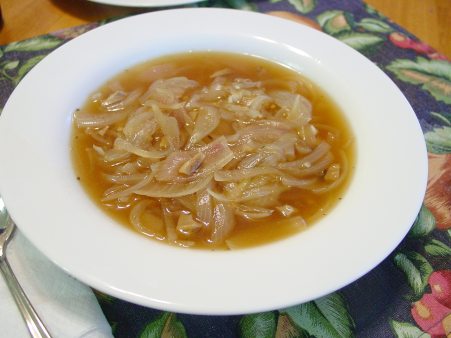 This is a delicious soup with flavors of French Onion Soup without having to make a beef stock and have special oven-proof bowls to melt gruyère cheese.
Ingredients
We start by heating our dutch oven over medium-low heat. We cut the ends off the onions, cutting them in half, peeling and slicing them. We have about 5.5 cups of sliced onions. We add the olive oil to the pot and then the onions. We cook, stirring occasionally, with the lid of our Le Creuset Dutch Oven on partially.
Meanwhile, we heat the water in a large measuring cup in the microwave for 1 minute to heat. We remove the measuring cup and add the dried mushrooms to soak. We want the mushrooms softened.
When the onions have cooked for 20 minutes, we stir and uncover the pot. We add a little salt and pepper. We raise the heat to medium and mince the garlic. We add the garlic and dried thyme and stir for a minute. The onions are soft and golden. The garlic is fragrant. We add the dry sherry and cook for a couple of minutes. Then we add the chicken stock. We cover the pot and bring up to a boil.
Meanwhile, we strain the mushroom liquid through cheesecloth into a large cup. We rinse the mushrooms and chop. We add the mushrooms and the strained liquid to the soup. When the soup is boiling, we reduce the heat to a simmer, partially cover, and cook for another 20 minutes or so. We taste for salt and pepper and serve.