Gingered Spicy Carrots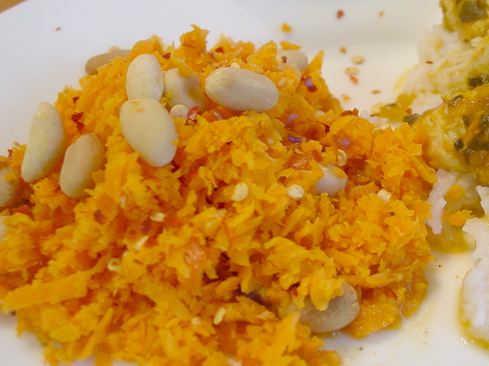 We were inspired by a side dish show of Sara's Secrets a few months ago to make a sauteed shredded carrot side. We add ginger and hot pepper flakes and top with peanuts for a tasty accompaniment to an asian or indian inspired meal.
Ingredients
30

baby

bagged ready-to-eat

carrots

½

cup

roasted and unsalted

peanuts

(Trader Joe's)

1

teaspoon

canola

oil

1

1-inch piece

ginger

hot pepper flakes

salt
We begin by pre-heating the oven to 350 degrees. We want to bring the flavor alive in the peanuts that have been stored in the fridge.
Meanwhile, we take out our food processor. Using the shredding disk, we grate our carrots. We remove the carrots to a measuring cup, we have about 1.5 cups of grated carrots. On a piece of wax paper, using our microplane, we grate the ginger. We have about a teaspoon of grated ginger.
When the oven is pre-heated, we spread the peanuts on a parchment-lined cookie sheet and bake the peanuts for a few minutes until they are fragrant. We remove them to a dinner plate to cool.
In a large pan, we heat the canola oil over medium heat. We add the grated ginger and a pinch of hot pepper flakes and stir for a minute. Next we add the grated carrots and cook for a few minutes, stirring often. We add salt to taste.
When the carrots are tender, we serve topped with the peanuts and some more red pepper flakes.