Orange Carrot Soup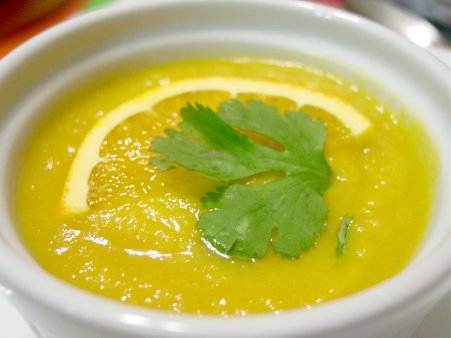 A while ago we saw Sara Moulton make a carrot soup on a cook-along that had orange juice as part of the liquid. We misplaced that recipe, so we opened our fridge this evening and, starting with carrots and orange, we created a delicious, healthy, pureed soup.
Ingredients
½

tablespoon

canola

oil

1½

cups

onion

½

cup

light part only

leeks

6

medium

carrots

4

cloves

garlic

salt & pepper

1

medium

navel

orange

1

teaspoon

dried ground

cumin

1

teaspoon

dried ground

coriander

2

cups

organic vegetable

stock

1

tablespoon

fresh

cilantro
We start the soup by heating a large pot with the canola oil. We add the onion and leeks and cook over medium-low heat to soften. Meanwhile, we trim the carrots at their tops and bottoms and peel their outer layer. We halve and chop the carrots, yielding 3/4 cup. We add these to the pot. We mince the garlic with some salt and when the carrots have softened we add the garlic to the pot. We stir and using our microplane grater, we zest the orange directly into the pot, reserving the orange for later. We add salt, pepper, cumin, and coriander, and stir for a minute. Next we add the stock, stir, and partially cover. We raise the heat to medium and when the mixture comes to a boil, we turn it down to a simmer.
We cook the soup for about 20 minutes until all the vegetables are tender. We carefully add the soup to a blender, filling only a third of the blender full (unfortunately we did a little more than this, splattering some hot soup on Robin's forehead!), and blend. We cut the orange in half and add its juice to the blender to help pureeing the soup. When the soup is all pureed, we add it to a microwavable serving bowl and taste for salt and pepper (the soup is ready before we are ready to eat and we want to use the pot for something else). We cover with plastic wrap and when it's time to eat, we heat briefly in microwave and then we sprinkle on the cilantro and enjoy.