Cheesies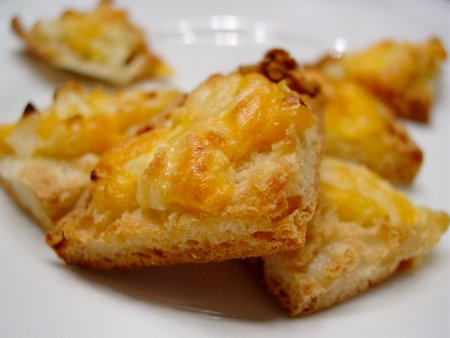 Well, this is it – the secret appetizer recipe that's been in Chris's family for generations and never been reproduced anywhere. These are the perfect appetizer – easy to fix (even the night before) and guaranteed to be devoured by all!
Ingredients
4

ounces

white cheddar

cheese

(Land O' Lakes)

4

ounces

yellow cheddar

cheese

(Land O' Lakes)

½

medium

sweet

onion

¼

cup

light

mayonnaise

(Hellmann's)

8

english muffins

(Thomas's)
We start off the appetizers by shredding the cheese with our box grater and chopping the onion finely. We then toss them with the mayonnaise in a bowl. We'll often store this cheese mixture overnight, covered in the refrigerator.
We pre-heat the oven to 425 degrees.
We line a cookie sheet with aluminum foil. We place most of the halved and quartered english muffins in a single layer on the cookie sheet (the rest we save for the next batch). Onto each english muffin section, we put a little bit of the cheese mixture (about a half teaspoon, depending on the size of the english muffin).
We bake them in the oven until the cheese is browning and they are to the desired crispness, about 10 minutes. We serve these hot and start making the next batch – the first batch always goes fast!
Search
G
o
o
g
l
e
for other
Cheesies
recipes