Garlic Lemon Parmesan Dressing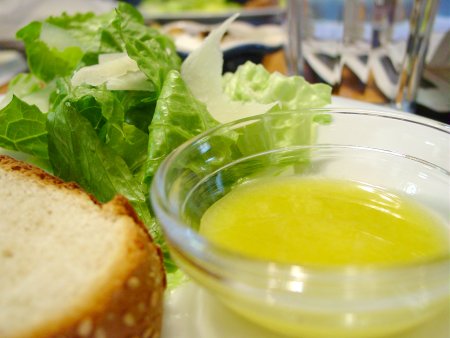 We love our immersion blender. It is perfect for blending a small quantity of salad dressing. Of course, the garlic can be minced and the ingredients just whisked together, but the blending gives it a nice creamy consistency. This dressing is wonderful on salad greens but we would also like to try it on steamed vegetables or a chicken sandwich.
Ingredients
1

tablespoon

juice

lemon

½

teaspoon

dijon

mustard

1

clove

small

garlic

salt & pepper

3

tablespoons

extra-virgin olive

oil

1

tablespoon

Parmigiano-Reggiano

cheese
We start by combining all the ingredients except the cheese in the beaker of our immersion blender. We blend for about 30 seconds to combine. We strain through a fine strainer into a resealable plastic container to remove any bits of garlic and spices. We stir in the cheese and taste for seasoning. We add a little freshly ground black pepper and serve. The leftover dressing can be stored in the fridge for a couple of days.