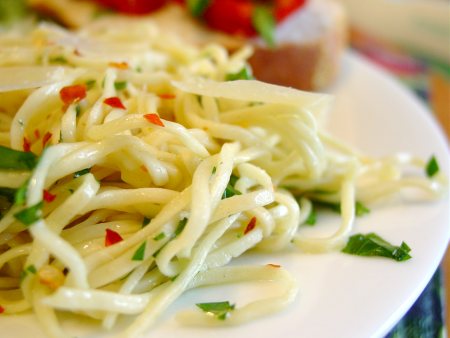 We serve this classic quick sauce over homemade linguine fini but spaghetti would also be great. For a vegetarian version, the anchovies can be omitted, but they provide a wonderful backdrop as they melt into the sauce.
We start this dish by filling our large pasta pot with water, covering, and heating it over medium heat.
On our cutting board, we smash the garlic cloves with the side of our chef's knife. This allows us to easily remove the peels. Then we cut off the hard root ends, and mince the cloves with a pinch of salt. We get about 1/2 tablespoon of minced garlic.
We place our saute pan on the stove, add the garlic and olive oil and begin heating this over low heat. When the garlic starts to sizzle, we add the minced anchovies and a pinch of red pepper flakes. We cook over medium-low heat for a few minutes. We do not want the garlic to brown, we just want the anchovies to disappear into the sauce. We stir and the sauce is done, we remove it from the heat and wait for the pasta.
Meanwhile, the water has come to a boil. We lower it and wait for the fresh pasta to be cut.
We add the fresh pasta and a pinch of salt to the boiling water and stir. We put the sauce back on medium-low heat. We cook the pasta for about 1.5 minutes until it is just tender. We mean to remove about 1/4 cup of pasta cooking water to be added to the sauce if necessary, but we forget!
When the pasta is cooked, we drain it in a colander and pour the linguine into the sauce. We stir with tongs, add the parsley, and serve with additional hot pepper flakes and freshly grated Locatelli. We reserve some of the fresh pasta for the kids and enjoy the rest with this sauce. Wonderful!