Tartar Sauce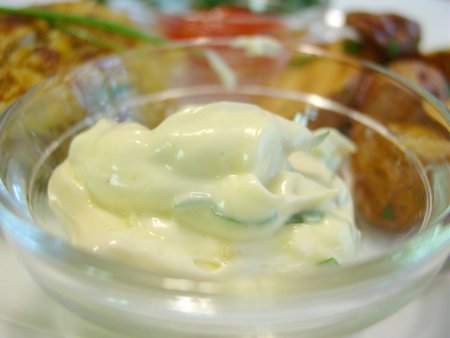 We are inspired to make a quick mayonnaise-based sauce to complement fried fish and seafood from Jean Anderson's "The New Doubleday Cookbook". The pickly items and mustard give it the traditional tartar sauce taste, and the scallions and parsley give it the freshness lacking in bottled sauces.
Ingredients
½

cup

light

mayonnaise

(Hellmann's)

½

tablespoon

fresh italian leaf

parsley

½

tablespoon

green and light parts

scallions

½

tablespoon

green with pimento

olives

1

teaspoon

capers

½

tablespoon

hotdog relish

½

teaspoon

Dijon

mustard
In a medium bowl, we combine all the ingredients and stir well with a small spoon. We allow the flavors to mingle for about 10 minutes while we finish cooking the seafood. The leftover sauce we cover and refrigerate for a couple of days.