Mexican Scramble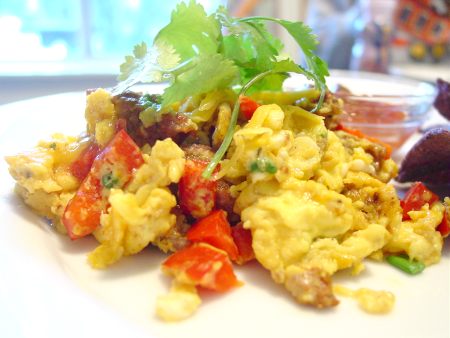 We are inspired by a local restaurant to make a mexican-style scrambled egg dish. The result is hearty and quite flavorful. Chorizo, red peppers, scallions, and cheese dress up simple scrambled eggs. We serve it with bought salsa and chips but it would also be wonderful wrapped in a tortilla for a breakfast burrito!
Ingredients
1

link

smoked turkey and chicken chorizo, fully cooked, about 3 oz.

sausage

(chef )

½

cup

red

bell pepper

4

large

eggs

2

tablespoons

lowfat

milk

1

medium

scallion

salt & pepper

2

tablespoons

lowfat, plus more for garnish

cheddar

cilantro
We quarter and slice our chorizo and add it to a non-stick pan. We heat up over medium heat and, when it starts to sizzle and brown on one side, we stir with a wooden spoon. This takes about 5 minutes. We add the red pepper and continue to cook for another 5 minutes, stirring often.
Meanwhile, we crack our eggs into a large bowl and whisk with the milk. We slice the all of the light portion of, and a little of the dark green section of, the scallion – yielding 1 tablespoon, which we add to the eggs. We lightly salt and add freshly ground black pepper. We whisk well.
When the red pepper has cooked for 5 minutes, we lower the heat to medium low and add the eggs. We let set for a few seconds, and then mix gently with our wooden spoon to scramble the eggs. The pan is still rather hot, so the eggs cook more quickly than we would have liked. After just a few minutes of gently pushing the eggs around the pan, they are cooked. We add the cheese and serve garnished with additional cheese and cilantro.