Berry Yogurt Smoothie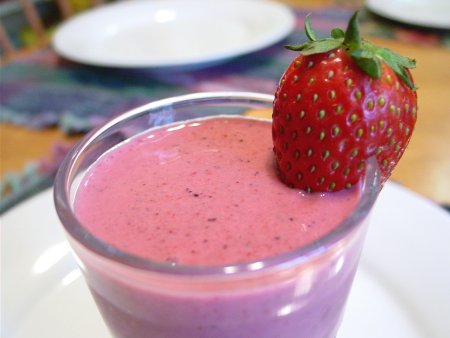 This is an easy, healthy smoothie that the children adore and can help prepare. We use plain yogurt with fruit and naturally sweetened juice for flavor, but adding sugar or honey to taste might be nice as well.
Ingredients
1

cup

plain, low-fat, organic

yogurt

(Stonyfield Farms)

1

cup

frozen mix of strawberries, blackberries, red raspberries, blueberries

berries

¼

cup

cranberry blend, 100% juice

juice

(Ocean Spray)

2

medium

fresh, for garnish

strawberries
We combine the yogurt and frozen berries in our blender and puree until smooth, stopping a few times to mix. We add the cranberry juice to thin the mixture. We puree for a few more seconds to combine well.
We divide into glasses and serve garnished with rinsed, patted dry, and partly sliced strawberries.