Robin's Favorite Snack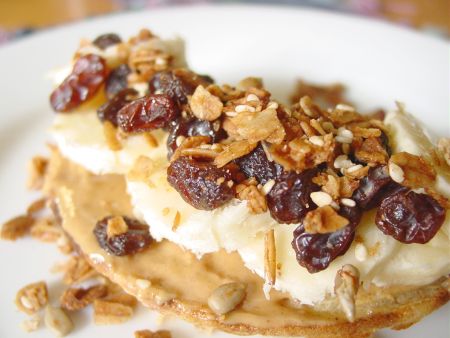 Robin started making a variation of this peanut butter covered store-bought waffle topped with banana, raisins, and granola when she was just a teenager. She still loves them, a healthy, easy to prepare snack or breakfast.
Ingredients
½

Nutri-Grain, whole wheat

waffle

(Kellogg's Eggo)

½

tablespoon

creamy, salted

peanut butter

(Trader Joe's)

¼

large

banana

raisins

Harvest Fruit, including sunflower seeds, sesame seeds, cranberries, apricots, cherries, blueberries

granola

(Partners)
We start by heating the half of the store-bought waffle in the toaster oven according to the package directions. When it is hot and crispy, we spread on the peanut butter. We top with slices of the banana, a sprinkle of raisins, and some of the granola.