Roasted Curried Cauliflower with Mustard Seeds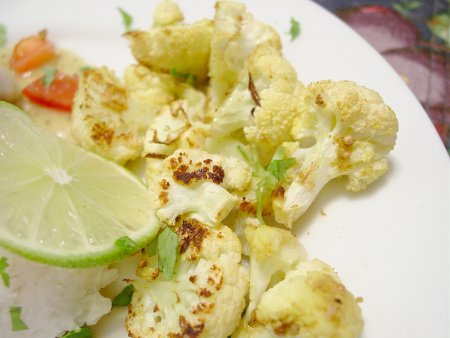 We are inspired by a Sara's Secrets episode to combine cauliflower with mustard seeds and Indian-style spices. We mix the cauliflower with a few ingredients and roast it for additional flavor and texture. The result is delicious and a wonderful accompaniment to an Indian or Asian inspired meal.
Ingredients
1

head

small

cauliflower

1

tablespoon

extra-virgin olive

oil

½

teaspoon

yellow

mustard seeds

¼

teaspoon

mild

curry powder

½

inch piece

fresh

ginger

salt & pepper

fresh

cilantro
We preheat oven to 425° F and cover a sheet pan with foil for easy cleanup. We rinse our cauliflower and place it on our cutting board.
In a 1-cup glass measuring cup we combine the oil, curry powder, and mustard seeds. We cover with plastic wrap and heat in microwave for 30 seconds. We want to warm the oil and have the curry powder's and seeds' permeation in the oil just started.
We peel our piece of ginger with a knife and, using the microplane, grate it directly into the measuring cup. This yields about a teaspoon of ginger.
We cut our cauliflower into florets, yielding 3½ cups. We put these in a bowl and toss with the flavored oil. The mixture is thick but we mix as best we can. We spread the cauliflower on the sheet pan and sprinkle with salt and pepper.
We roast in the oven for 10 minutes, stir with tongs, and then continue to cook for another 10-15 minutes until the cauliflower is tender, crispy, and nicely caramelized.
We serve sprinkled with cilantro.