Potato and Squash Burrito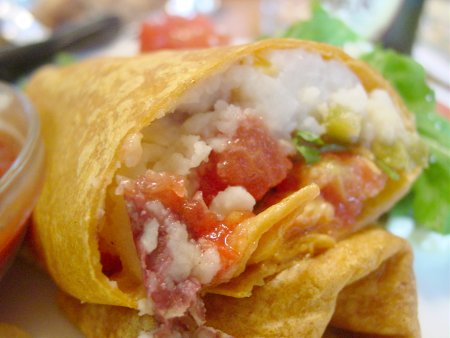 Flour tortillas come in a variety of flavors and can be filled with endless ingredients. Here we combine leftover mashed potatoes with cooked yellow squash, cheese, and salsa for an interesting, flavorful meal.
Ingredients
3

small

yellow, from farmers' market

squash

½

large

beefsteak

tomato

salt & pepper

2

8-inch

red chile flour

tortillas

½

cup

leftover, smashed red skin

mashed potatoes

¼

cup

yellow cheddar

cheese

8

slices

jarred, hot pickled, sliced

jalapeño

store-bought, chipotle

salsa
We start by cooking the baby yellow squash. We rinse and pat dry and slice the ends off. We cut each squash into chunks (we have ¾ cup or so) and place in a microwave safe bowl with half a tablespoon of water. We cover with plastic wrap and cook in the microwave on the "Fresh Vegetables" setting. When cooked, we carefully remove the plastic wrap and stir in the tomatoes. We add some salt and pepper to taste.
One at a time, we prepare the burritos. We lay out a tortilla on a microwave-safe dinner plate and put half of the potatoes in the middle. We top with a quarter of the cheese and then some of the vegetable mixture—not quite half, since we do not want the burritos too filled. We spoon out the tomato and yellow squash, leaving the liquid behind in the bowl. We top with another quarter of the cheese and half of the pickled jalapeño slices. We place in the microwave, uncovered, for a minute to heat the ingredients and melt the cheese. Carefully, we roll up. We repeat on the second dinner plate with the other burrito.
We serve with salsa, reserving any leftover filling for another use.