Polenta with Mushrooms and Herb Sauce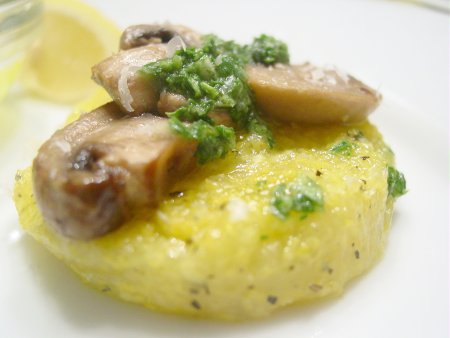 We "dress up" storebought polenta with sauteed mushrooms and a quick herb sauce for a satisfying first course. For an even quicker prep time, we could have used storebought pesto and already cleaned and sliced mushrooms.
Ingredients
We start by preparing a quick herb sauce. In the chopper attachment of our immersion blender, we combine the basil leaves, parsley, thyme leaves (discarding the stems) and a little oil. We start blending, adding a little more oil to make a paste. We set this aside.
In our large nonstick pan, we heat a tablespoon of oil with the garlic over medium heat. When the garlic is fragrant and sizzling, we add the mushrooms and stir well. After a few minutes, we add some salt and pepper and continue to cook a few more minutes until the mushrooms are tender and released their liquid.
Meanwhile, we slice the log of polenta into 12 pieces. We preheat the oven to 250° F and get ready a cookie sheet lined with parchment.
When the mushroom mixture is cooked, we transfer it to a bowl and heat another tablespoon of oil. When the oil is hot, we place half of the polenta slices into the pan and cook for a couple of minutes to brown. We flip and brown the other side. When done, the polenta rounds are placed in the oven on the cookie sheet to keep warm. We repeat with the remaining polenta.
The polenta slices are served topped with the mushroom mixture and drizzled with the herb sauce and freshly grated cheese.