Spicy Hot Crab Dip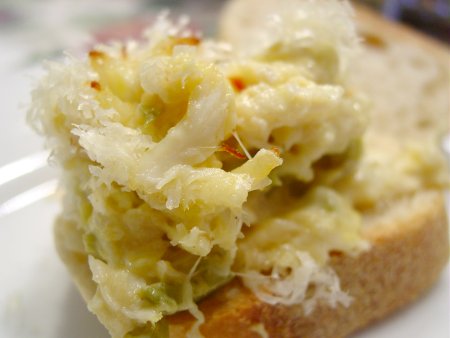 Robin has wanted to make a hot crab dip for a while now. This recipe, based on one of "Emeril's" is a winner! Since her last pregnancy, Robin has preferred her foods spicy. This dip has Monterey jack cheese with jalapeños, pickled jalapeños, and Tabasco brand Chipotle sauce! The dip is spicy, but it is also creamy, cheesy, and crab-filled! We serve it with slices of French baguette, crackers, and salsa and chips. Yum!
Ingredients
We start by preheating the oven to 350° F.
In a large bowl, we combine the Monterey jack cheese, mayonnaise, Worcestershire sauce, and Chipotle hot sauce. We stir well with a spoon.
On our cutting board, we smash the garlic cloves with the back side of our knife, (carefully!) and discard the peels. We sprinkle with some coarse salt and mince. We add about a teaspoon of garlic to the bowl.
The sliced jalapeños are also minced and added to the bowl.
We add a ¼ teaspoon of the coarse salt and stir well.
We pick through the crabmeat as we add it to the bowl. We do not want to add any shells or cartilage. Even so, we are too careful since we want to leave the nice lumps of crabmeat intact. When all the crab is added, we stir gently and pour into a casserole dish (we use the gratin dish which is part of a food warmer).
Finally, we sprinkle on the Parmigiano-Reggiano—a thick layer of it—and bake in the oven for 25 minutes. We want the dip bubbling and the top lightly browned.
We remove the dish from the oven and set aside for a few minutes while we get our chafing apparatus set up. We place the hot dip on the warmer and serve with bread, tortilla chips, and crackers.