Roasted Salmon with Smoked Paprika Glaze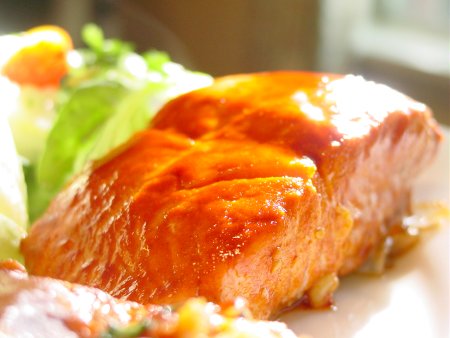 In the past, we have had great success pan-roasting or grilling our salmon. With the oven already on, we are inspired to roast the salmon. This method is really simple and produces a moist and flavorful fish. A smoky and sweet glaze complements the wild salmon fillets.
Ingredients
2

pounds

fresh, wild Copper River

salmon

¼

cup

extra-virgin olive

oil

¼

cup

lemon juice

2

tablespoons

clover

honey

1

teaspoon

ground

coriander

2

tablespoons

Spanish

smoked paprika

2

teaspoons

coarse

salt
We start by preheating the oven to 400° F. We line a rimmed cookie sheet with foil.
We rinse the salmon and pat it dry. With clean scissors, we cut the salmon into 5 pieces of 5-6 ounces each and then three smaller pieces for the children. Each of the bigger pieces of salmon are almost 2 inches thick. We place the salmon on the foil-lined cookie sheet skin-side down.
In a bowl, we combine the rest of the ingredients and stir well. We pour half of it into a ramekin to reserve for the table. We brush the rest of the glaze on the flesh side of the large pieces of salmon.
We roast the salmon in the oven for 10 minutes. We check for doneness, but find that it is not quite ready. We cook it for a few more minutes.
With tongs, we lift the salmon off the foil onto the dinner plates. We leave behind the skin of the salmon and serve immediately.