Tomato, Mozzarella and Spinach Salad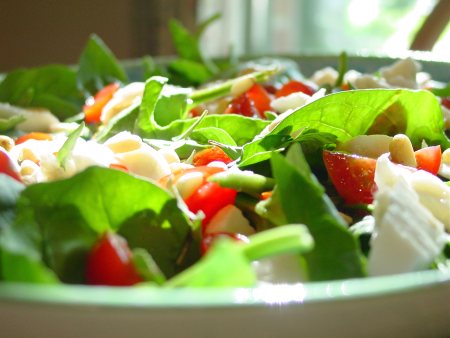 We make an "arranged" salad with Farmers' Market spinach lettuce and herbs. Fresh mozzarella, tomato, pine nuts and a balsamic vinaigrette complement this Italian-inspired red, white, and green salad.
Ingredients
3

cups

Farmers' market, small leaf

spinach

1

tablespoon

balsamic

vinegar

salt & pepper

1

clove

garlic

3

tablespoons

extra-virgin olive

oil

2

tablespoons

frozen pine nuts

nuts

10

cherry

tomatoes

2

ounces

fresh

mozzarella

2

tablespoons

fresh, mix of Italian and Thai

basil
We put the spinach onto an oval platter, cover with paper towels, and refrigerate. Next, we make the dressing. In a resealable container, we combine the vinegar, some salt and freshly ground black pepper, and the garlic clove. We stir well with a fork. We have the olive oil ready on the side to add when it is time to dress the salad.
Meanwhile, we toast the nuts on a piece of foil in the toaster oven at 350° F. It takes a few minutes for the nuts to brown lightly, we need to be careful, of course, not to burn them!
When the nuts are toasted, we remove them from the toaster oven and allow them to cool.
The cherry tomatoes are rinsed and quartered and the mozzarella is sliced into small pieces.
We remove the refrigerated platter of lettuce and arrange the cherry tomatoes, mozzarella, and pine nuts. We tear the basil and season with some more salt and pepper.
We add the oil to the vinegar, seal, and shake to combine. We discard the garlic and drizzle a little of the dressing on the salad. The rest is served on the side.