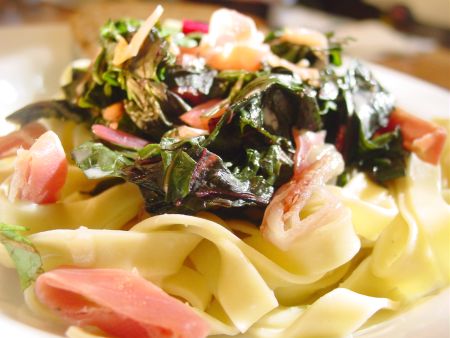 Pasta with chard evokes
wonderful memories
for us. We usually use dried pasta, but this creamy, vegetable filled sauce is worthy of the effort required for
homemade pasta
. Despite being quick and easy (we don't even use a sauté pan), it is rich and tasty. It is creamy from a soft garlic and herb cheese, sharp and salty from the Serrano ham and Pecorino romano, and spicy from the crushed red pepper flakes. On top of all that, it is quite healthy from the garlic and chard!
We start by filling our large pasta pot with water, covering, and heating it over medium heat.
In a large, microwaveable, bowl, we combine the sliced garlic and oil, microwaving for 30 seconds. At that point, garlic flavor is beginning to infuse into the oil.
On our cutting board, we coarsely chop the chard, a large handful at a time, and add it to the bowl of garlic and oil. We have about 6 cups of chard.
We cover the bowl with plastic wrap, and microwave for 2 minutes. The slightly wilted chard is mixed with the garlic and oil, and the bowl is re-covered. We microwave for another 2 minutes. We taste for tenderness, and add some salt and pepper. The bowl is set aside, covered, while we wait for the pasta.
Once the water has come to a boil, we add the pasta and a large pinch of salt to the boiling water and stir. We cook the pasta for just a few minutes until it is "just" tender.
Meanwhile, the ham is cut into small strips with scissors, put on a small plate, and set on the table.
Before draining the tender pasta, we remove ¼ cup of pasta cooking water to be added to the sauce.
We drain the fettuccine in a colander, then return it to the pot. We put the pot back on the hot burner and turn the burner off. The Boursin is crumbled in. We stir with tongs, add the reserved pasta cooking water, and serve topped with the garlic chard, hot pepper flakes, freshly grated Locatelli, and Serrano ham.