Sage and Tomato topped Pasta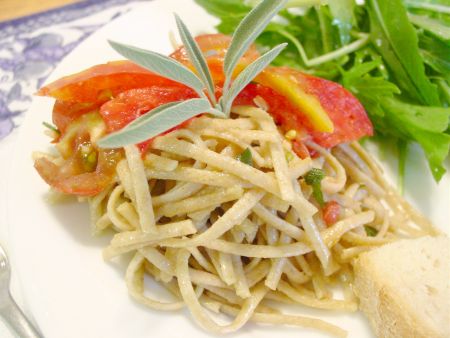 Leftover plain pasta gets new life with a simple garlic and sage infused "sauce". The sauce is similar to the Italian pasta dish "Aglio Olio", with the addition of butter and sage leaves. It is simple, quick, and easy clean-up!
Ingredients
We start by combining the butter and oil in a pan. We squeeze in the garlic cloves, one at a time, using our garlic press. We turn the heat on medium and wait for the butter to melt and the garlic to sizzle.
Meanwhile, we shred the sage and coarsely chop the tomatoes.
When the garlic is fragrant, we add the sage leaves and stir for 30 seconds. We add the cooked fettuccine to the pan and toss with tongs to coat the pasta with the garlic and sage infused butter and oil.
We cook for a few minutes, tossing occasionally. We want the fettuccine hot.
We serve topped with the reserved tomatoes and with a sprinkling of Locatelli, red pepper flakes and freshly ground black pepper.