Leftover Tenderloin Topped Pasta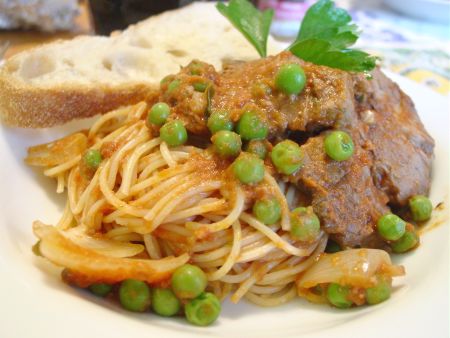 Frozen leftovers of meat and tomato sauce are combined with vegetables and served over pasta producing a quick, "homemade" microwave dinner.
Ingredients
⅓

pound

dried fedelini

pasta

1½

cups

homemade tomato, leftover, frozen

sauce

5

slices

cooked tenderloin, leftover, frozen

beef

⅓

cup

frozen

peas

½

medium

onion

salt & pepper

1

tablespoon

dry red

wine

1

tablespoon

heavy, pasteurized

cream

Pecorino romano

cheese

(Locatelli)

red pepper flakes
We start by heating a large pot of water over high heat for the pasta. In the microwave, we also start defrosting the sauce and cooked tenderloin.
When the water is boiling, we add some salt and the dried pasta and stir. We cook according to the package directions.
Meanwhile, in a medium bowl, we add the peas, onion, and ½ tablespoon of water, cover with plastic wrap and cook in the microwave for 2 minutes.
When the pasta is al dente, we drain it in a colander. Back in the pot, we add the defrosted meat and sauce and cook over medium heat. When boiling, we add the red wine and boil for 30 seconds. We stir in the heavy cream and the peas and onion.
When the sauce is hot, we stir in the pasta and serve. The pasta is sprinkled with red pepper flakes and Locatelli.