Brown Bread French Toast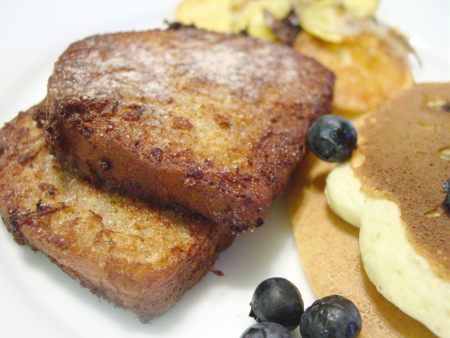 Homemade brown bread made by our daughter in second grade serves as the inspiration for dinner. She loves french toast, so we slice up the small loaf, soak in an eggy flavorful batter and fry.
Ingredients
We start by slicing the bread ½ inch thick.
In a large frying pan, we heat ¼ inch of oil over medium-high heat.
Meanwhile, we whisk the eggs, milk, vanilla, cinnamon, and salt in a large bowl. We add 4 of the bread pieces to the batter and let soak for about 30 seconds. We flip them over and then add to the hot oil.
We fry each piece for a couple of minutes on each side. We want the outside crispy and the inside cooked through. We drain on a paper-towel lined plate, sprinkle with cinnamon sugar and serve with maple syrup.