Mango and Tomato Salad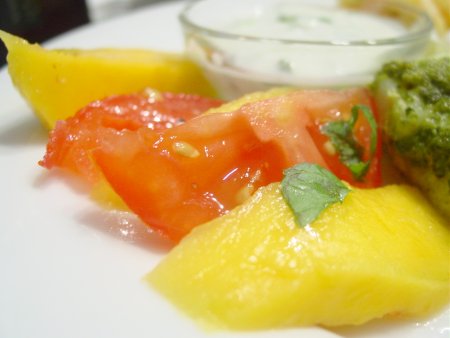 We were inspired by the "Martha Show" to pair red ripe tomatoes with sweet orange mangoes for a simple and refreshing arranged salad. The sliced fruit is drizzled with a light honey sweetened vinaigrette that would also be nice with crisp lettuce greens.
Ingredients
1

tablespoon

rice

vinegar

½

teaspoon

Dijon

mustard

1

teaspoon

clover

honey

½

teaspoon

freshly squeezed juice

lime

salt & pepper

1

tablespoon

vegetable

oil

1

medium

ripe

mango

1

large

ripe

tomato

3

leaves

fresh

basil
In a ramekin, we stir together the vinegar, mustard, honey, lime juice, a pinch of salt, and freshly ground black pepper. While stirring with the fork, we add the oil slowly and set aside.
On our cutting board, we slice the mango into two pieces on either side of the pit. We peel each piece and thinly slice. The tomato is halved and it too is thinly sliced.
We arrange the mango and tomato slices on a plate, alternating the fruit. We stir the dressing again and drizzle over the salad. Finally, we tear the basil leaves over the salad and serve.