Crockpot Lentil Andouille Soup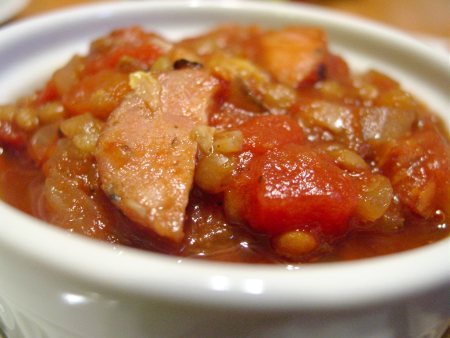 We combine healthy lentils and vegetables with a small amount of flavorful andouille sausage to make this hearty soup. The crock-pot cooks the soup slowly (and easily), although the lentils took longer than we anticipated to become tender. Next time, we may try adding the can of tomatoes after the lentils are tender to shorten the cooking time a couple of hours. Nevertheless, the soup is well-worth the short prep time since it can cook all-day on its own!
Ingredients
1

cup

lentils

2

cups

beef broth, storebought

stock

1

small

onion

1

clove

garlic

1

stalk

with leaves attached

celery

1

link

andouille-style, 3.25 ounces

sausage

(Bruce Aidels)

14½

ounces

canned, fire-roasted, crushed

tomatoes
We start by sorting through and rinsing the lentils. We add them to our small, 2½ quart crock-pot along with the beef stock. Next, we halve, peel, and chop the onion—yielding ¾ cup. We smash the garlic clove, discard the peel, and finely mince. We chop the celery—yielding, 6 tablespoons. We also quarter the sausage lengthwise and slice.
We add the onion, garlic, celery and sausage to the crock-pot and then stir in the crushed tomatoes. We stir, cover, and cook on low for 10 hours until the lentils are tender.
We taste for salt and serve.