Pasta with Chard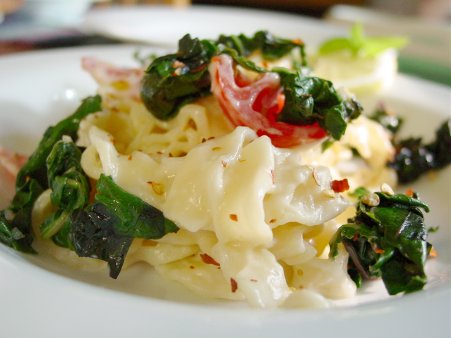 We're a little sad today. Soccer season is soon upon us, which means that Sarah won't be able to visit nearly as often. Our gloom is tempered by the most excellent meal that she helps to make tonight – pasta with chard and fresh italian bread.
Our weekly trip to the downtown Baltimore Farmer's Market yesterday was the inspiration for this meal. The green Swiss chard sold by the "Gardener's Gourmet" was humming a tune. Tonight we try to sing along. We got a small salad bowl portion of it for $3. We also pick up fresh local cherry tomatoes and crusty bread.
An abundance of fresh herbs and some fresh italian bread inspires a hummus-like accompaniment. We really need to remember that a food processor, not a blender, is the proper instrument for this dish. Aside from some unnecessary hand mixing, this proves a fine side.