Cavatelli Imported Direct from Brooklyn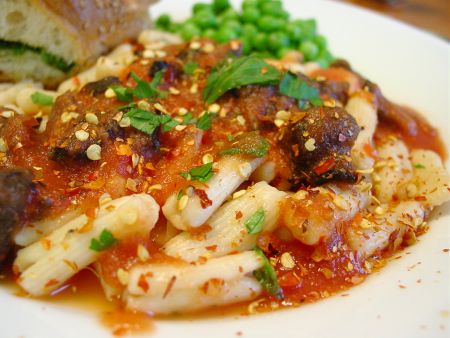 A quick weekend trip to Brooklyn netted us many goodies. Among them was some cavatelli from Nanny's freezer. Cavatelli is counted among the many dishes that evokes happy memories for Robin. We hope that it will do the same for our children.
The trip back and forth to Brooklyn was not particularly pleasant. The kids did remarkably well, all things considered. On the way up, we sat at a dead stop for 45 minutes just south of the Delaware border (a rather bad accident, unfortunately). That prevented us from our normal stopover at the Cracker Barrel.
For the return trip, our daughter had her heart set on a Happy Meal from "Old McDonald's". When we had nearly reached the exit, our daughter asked, "What would we do if something got stuck in my ear?" Chris, thinking this was a continuation of an earlier conversation regarding ear wax, answered, "We'll clean it out with a Q-tip when we get home."
The words "stuck" and "ear" did not make it past Robin's mommy radar. She quickly determined that our daughter's stick on earring had migrated from her ear lobe into her ear. After some tense minutes driving near Exit 4, we obtained some tweezers from a local drug store. Robin was able to (very carefully) remove the earring and all was well.
In one of those lemon from lemonade moments in life, we even found a Whole Foods near the drug store where Chris was able to get a turkey wrap and some coffee.
All in all, the trip was definitely worth it – and not just for the pasta and cookies that we got. The kids had a great time showing off for their great grandparents and we enjoyed their company. Hopefully we can do it again over the summer.