Chicken Parmesan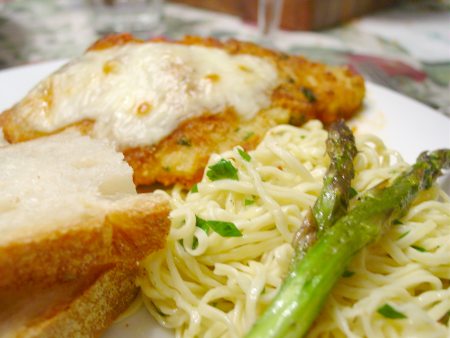 The day after
The Bed
finds us playing host to Grammy and Boppy. We've been wanting to have them over again for some time and tonight fit into all of our schedules. We serve chicken parmesan which, unbelievably, we haven't had since we started our cookbook, nearly two years ago.
We were probably a little ambitious with this meal. In addition to the chicken, we serve some fresh pasta, roasted asparagus and fresh bread. The farmer's market started today, which was the source of the asparagus and the bread (an Italian table loaf). Over the pasta, we serve a garlic oil sauce, similar to one that we served back in
February
, but without the anchovies.
Grammy and Boppy showed up right on time. We don't want to say that's unusual. Let's just say that the pasta wasn't ready yet. The pasta took a little longer than expected, mostly because we were having problems with it sticking after going through the pasta roller in our KitchenAid. The Herb Farm Cookbook suggests rice flour to prevent this, so we may have to give that a try next time.
Once dinner was served, a nice time was had by all.