A Simple Sunday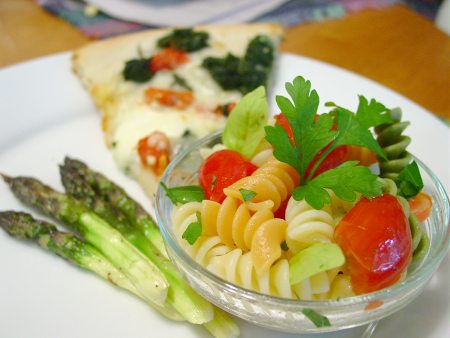 Our weekend was full. A birthday party, helping Grammy clean out the basement and some closets, and the usual chores kept us on the go. Sunday evening found us pressed for time so that we could fulfill out catholic obligation (mass). Sounds like a job for leftovers!
While running errands yesterday we found time to stop at Vito's Gourmet over in Reisterstown. We had heard good things about it, but this was our first stop in there. It was very much like the pizzerias with which Robin is familiar from Brooklyn – and the pizza was just as good as well. We'll be going back there!
Tonight, we have a couple slices of the pizza that was leftover (spinach ricotta) along with two simple prep dishes – roasted asparagus and a simple pasta salad.
It was a quick, simple meal – just what we needed.