Mafalde and Panelles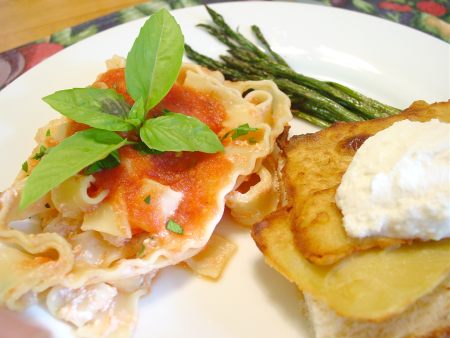 We've been happily busy of late. Robin is pregnant with our third child. That's not having much of an impact on our time just yet, but it is much on our mind. Over the weekend, our collective attention was focused on a a daytrip to Brooklyn and a visit with Nanny and Gramps. That, plus a visit from Erin today, provides the inspiration for mafalde and panelles tonight.
Panelles are an Italian (well at least a Brooklyn-Italian) delicacy. They're small pancakes made of chickpea flour. Tradition in Robin's family has them pan-fried in olive oil and served on fresh italian bread with ricotta and Locatelli romano cheese. When we arrived in Brooklyn, Gramps had already made a special trip to the Italian mart to have them in the house. They were a real treat and we were not at all saddened to find that we couldn't eat them all – we brought them home in our cooler to eat as leftovers.
Brooklyn, as always, was wonderful. We count ourselves among the lucky whenever we can visit Robin's grandparents. The kids adore their great-grandparents, who get a kick out of them.
Our daughter had an ulterior motive for our trip – she wanted to run through the sprinklers in Carroll Park. She and her brother had a grand time, after which we introduced them to Italian Ices, which Robin had been craving.
Tonight we share a little bit of Brooklyn with Erin. We don't have enough panelles to make a meal, so we serve them as a side to mafalde, which is one of Erin's favorites.