Mac and Cheese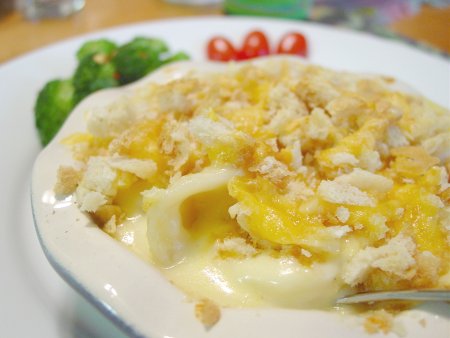 Neither a home nor a cookbook can have too much mac and cheese. Tonight's addition is an individual serving of mac and cheese. The meal was prefaced with our daughter exclaiming, "Oh boy! We're having broccoli?" The meal concluded with the broccoli stems stripped bare on her plate. As good as the broccoli was, the culinary highlight of the meal had to be the mac and cheese, which was unbelievably good.
We enjoyed a little bit of serendipity in tonight's meal. Robin dropped about half of the pasta all over the floor when preparing the meal. This drastically reduced the ratio of pasta to cheese, making the mac and cheese a little on the runny side. Since we were having broccoli for our daughter's sake, we ended up dipping the broccoli in the extra cheese, somewhat like having cheese fondue.
We had thought about calling the meal Macaroni and Cheese Fondue, but thought that sounded too much like a Wheel of Fortune puzzle clue. Regardless of the name (we go with "Individual Macaroni and Cheese"), this meal was fantastic. There's not many a dish more comforting than Mac and Cheese and we're looking forward to some comfort food leftovers.